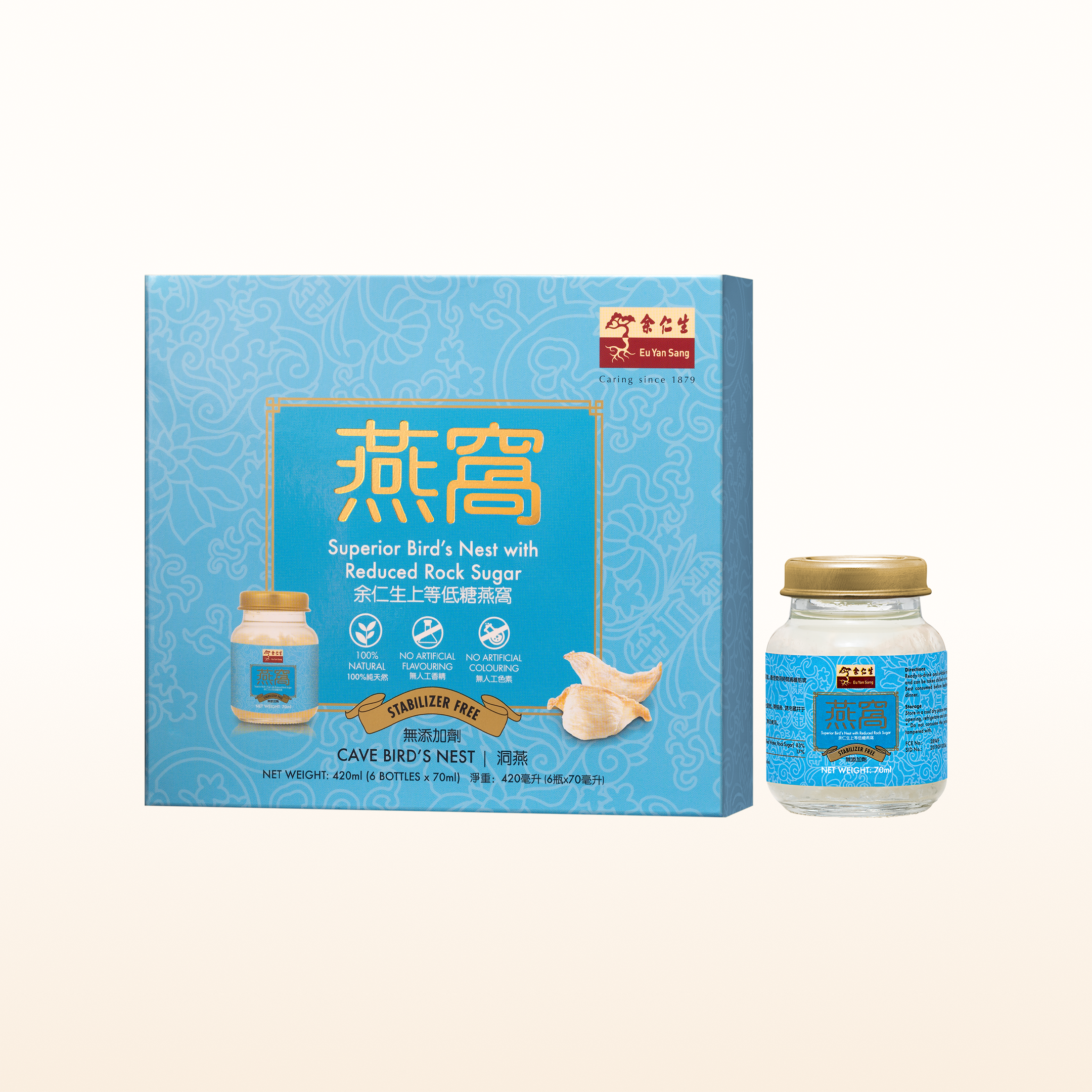 Superior Bird's Nest 6's - Reduced Sugar
Promotes overall immunity and beauty support
WHAT IT IS
For wellness all year round. Bird's nest is home to the most active agents of immunity support that work day and night to enhance energy and power up circulation.
Eu Yan Sang Superior Bird's Nest uses only
- Genuine superior quality cave bird's nest
- Complete bird nest strand
- All natural ingredients

With 25% lesser sugar, this is ideal for people who are conscious of their sugar intake. Every bottle of Eu Yan Sang Superior Bird's Nest (Reduced Sugar) is gingerly prepared to provide the perfect nourishment for healthy body and radiant skin.
Directions
Consume anytime, warm or chilled. Best consumed on empty stomach.
Storage
"Store in a cool dry place away from direct sunlight. Upon opening, refrigerate and consume within 12 hours. *Do not consume the product if cap is damaged or tampered with."
Ingredients
Water, Rock Sugar, Bird's Nest
Dosage
1 bottle daily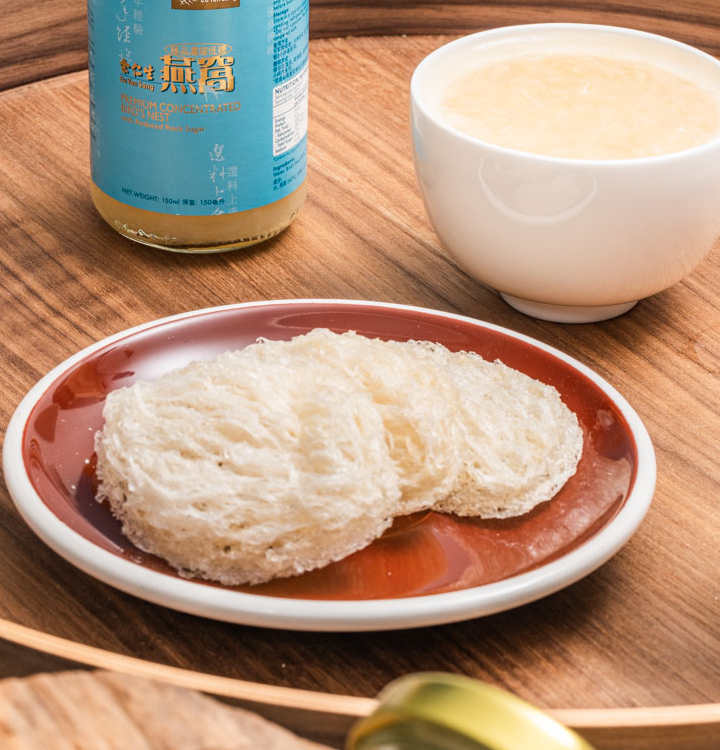 INGREDIENT SPOTLIGHT
Bird's Nest
Bird's nest is a nutrient-rich health tonic, used for centuries in Asia. Known for its restorative effects on health and beauty, it is a rare delicacy with a thick gelatinous texture and pleasant egg-like aroma.

The proteins found in bird's nest, being easily digestible, can be used for convalescing (recovering from serious illness) patients. It is also widely consumed during pre and post-natal periods as it contains essential amino acids for healthy mom and baby. Bird's nest with a whiter appearance is especially good for the lungs, and can help soothe respiratory illnesses and reduce phlegm. It is also said to be beneficial for kidney and stomach.

As an ancient secret to maintain youthful skin and timeless beauty, Bird's nest boosts skin elasticity which moisturizes your skin and gives you a radiant glow. It has also been used to reduce or eliminate liver spots in the elderly, improve complexion and manage skin irritations in babies and adults.
Quality Assurance
To safeguard the highest level of quality & safety, Eu Yan Sang Bird's Nest is produced at HACCP certified production plant and is made from premium selected bird's nest. The Bird's Nest first undergo a series of stringent cleansing processes to ensure that they are completely free of impurities. They are then hygienically sterilized by heat treatment process and vacuum treated. With these, the original flavors and nutrients of the bird's nests would be retained.

- No artificial coloring
- No artificial flavoring
- No preservatives
- No stabilizer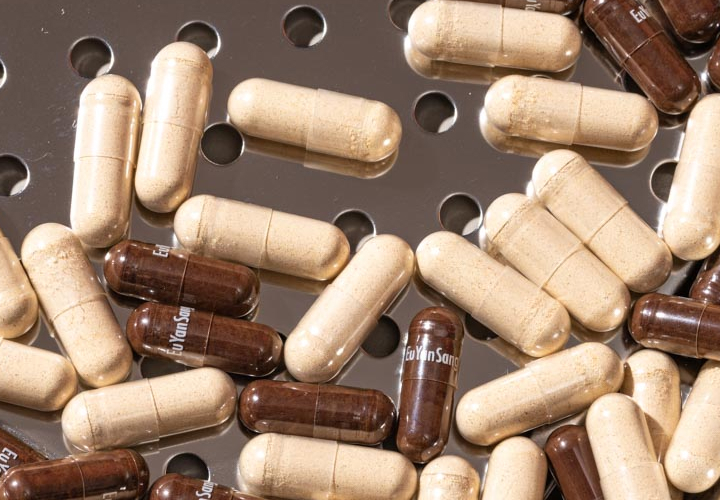 FAQ
Edible bird's nest is made out of nutrient-rich salivary secretion of swiflets. This gel secretion is an integral component to building the swiftlet nests, which are found in dangerous and highly inaccessible locations like steep cliffs, overhanging crags and deep caves.

The swiflet's saliva is a natural source of vitamins and minerals containing 18 different amino acids, protein, calcium, phosphorous, iron, sodium, potassium, iodine and 6 types of hormones.

Out of more than 30 species of swiflets, only 2 species of the genus Aerodramus and 1 of the genus Collocalia make edible saliva nest. Aerodramus fuciphaga is the swiftlet that produces the highest quality of edible Bird's Nest, because its nests are white and clean with minimum feathers. It is found only in Southeast Asia. Tedious process of cleaning approximately 10 nests takes approximately 8 hour by a person.
Pregnant Mums: Provides essential proteins to improve skin elasticity, relieve stretch marks, and promote healthy growth of the fetus.
Beauty Lovers: Slows down the aging process, promotes youthfulness and rejuvenates the skin complexion for a healthy glow from within.
Seniors: Nourishes lungs, supports respiratory health, and reduces liver spots for healthy aging.
Recovering Patients: Promotes immunity and speeds up recovery from surgery and respiratory-related illness.
Bird's nest is best consumed before bedtime, at least 3 hours after dinner. It is also ideal to eat bird's nest on an empty stomach in the morning, to maximize your body's absorption of its nutrients.
Have been drinking this daily for over 1 year and my friends have been telling me that my skin looks very smooth, fresh and glowing!
Serene
Have been a regular customer to Eu Yan Sang online store for their Bird's Nest. The Bird's Nest is less sweet and helped me during my pre/ post-natal nourishment.
Mabel
Consistent taste and definitely made from good quality ingredients!
Yiling